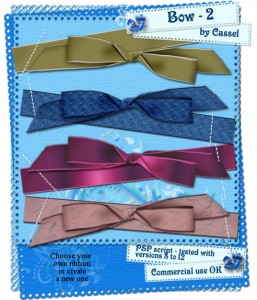 This week, i followed suggestions from some customers. You want ribbons and bows, and that is what i made for you.
This script gives you the opportunity to use your own ribbon to make the bow or, if you want, the script can create one for you, with your choice of colors, gradients, patterns, and then make a matching bow. So that is like two scripts for the price of one.
You can get this script at all my stores (on the left). If you hurry, you can take advantage of a great sale too!