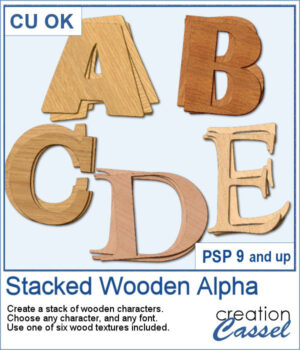 You can surely create stacks of wooden characters, but it is quite tedious. You have to duplicate each character, and then rotate and move them one by one, then add some thickness AND if you want to add the proper inside shadows, you have to do that on each individual layer.
But the script will do that in just a few seconds. Furthermore, it will change the angle of the wood texture for each layer, making your stacks even more random.
Once done, all the layers will be merged so that the inside shadows are not disturbed.
Get it in the store: Stacked Wooden Alpha
In order to win this product, add a comment on this Facebook post telling us how you can use these stacked characters (remember, add a comment, not just a Like!) The winner will be announced in the newsletter, next week. Not a subscriber yet? Not a problem. You can register here and it is free (and you only get one email per week).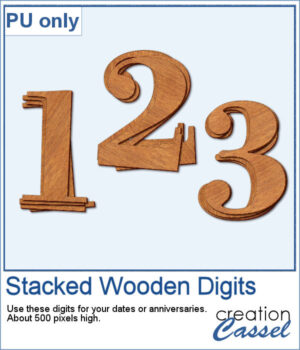 For a sampler, I created a set of 10 digits, using cherry wood. Each digit is about 500 pixels high in png format.
You need to be logged in to download this sample. You can either login, or register on the top of this page.