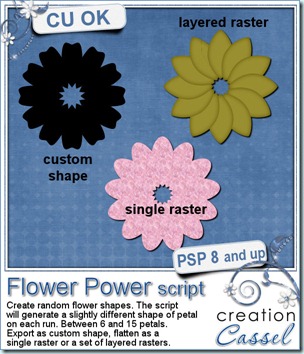 This little script for Paintshop Pro might not seem like much but how often did you want to get a flower shape and had to do all the duplicating and rotating manually? This script will do just that for you. With a random feature integrated, you might get between 6 and 15 petals, and each petal will be slightly different in size and shape, so you will always get a new shape.
In addition to creating a different shape, you can generate it as a vector shape to be exported as a custom shape, so you can use it at any time, later on. You can choose to have it in layered raster with your choice of color, gradient or pattern, or you can ask for a plain basic flat sample, again in the color of your choice (perfect for layering).
Once the script is run, you can keep adding details, modify the individual petals, add glitters on the edge, re-arrange the petal order, remove one petal, etc. So many things you could do!
You can get this script in my stores: CreationCassel and DigiScrapWarehouse.
If you want a chance to win this script, simply go over to the DST forum, and add your name to this thread. I will be back on Monday with the name of a winner.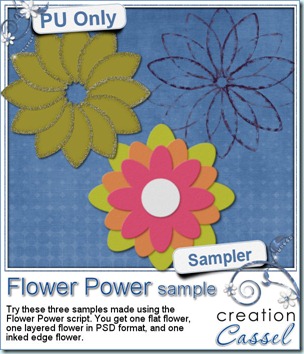 I am sure you are also looking for a freebie sample for this script. That is exactly what i did. I ran the script and got a few random shapes and i played with them. On one layered shape, i added a glittered edge with the Glittered Edge script on each individual petal, then i slipped the last petal under the first one for the  gold color flower. Then, i played with the Felt script to add a felt texture on 3 coloured copies of the same flower, and layered them. You get one PNG sample and the matching PSD format flower. Finally, i ran the Inked Edge script on a purple flower, petal by petal, and then, i removed the petals themselves, leaving only the inked border. I think it does give a really fun result that i didn't even expect! What can you do with that script?
You want to play with those? You need to be logged in to download this sample. You can either login, or register on the top of this page.
For the fun of it, this week i took the time to create a scrap page about one day of geogaching with my husband. It was a fun day, and since i have been meaning to make a whole album on our geocaching adventures, which started 3 years ago with my sons, i think i just found a style that might work for this. What do you think? I might just post the other pages as i create them. Do you do geocaching? Tell me about it!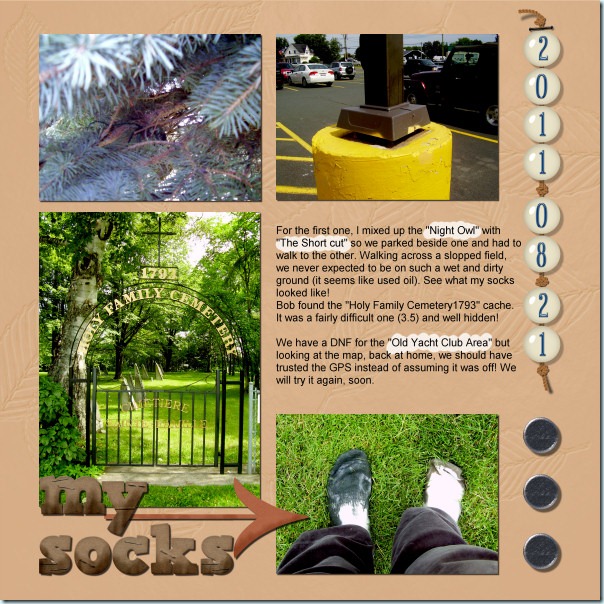 This is getting more and more exciting. Several people emailed me saying they would like to learn how to create this and that element with their Paintshop Pro, and i kept smiling because that is exactly what i am preparing! Many tutorials are in the making to create papers, elements, textures, fasteners, text effects, and more. So keep an eye on the Element Creation Tutorials of the Campus, subscribe to the mailing list if you want to be first to learn when registrations open so you can take advantage of the special price.