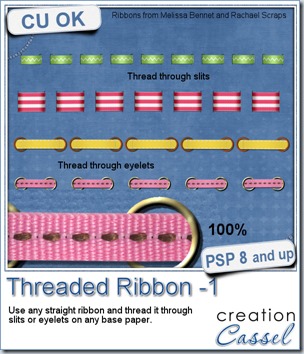 Threading a digital ribbon on a digital paper, might not be something too hard to do, but it is tedious. If you want to accomplish this task faster and more accurately, you can do so with this script.
Choose to thread your own ribbon through slits or eyelets. You choose the number of slits or eyelets to create along with a few other options to give you a very customizable result.
You can use this script to thread ribbons to match your folded ribbons, your knot or your bow. You can use it to put a threaded ribbon on a page, to create a frame, on a photo, on the edge of a card or envelope, and more.
What would you create with this script?
You can get this time saving script in my store : Creation Cassel.
There is also a thread in the forum where you can add your name and get a chance to win this script. Check out this thread and don't be shy!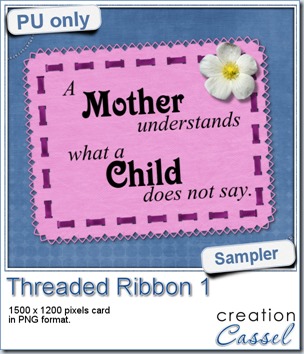 For this week's sample, I created this fun card for Mother's Day. You can use it in one layout about your mom or another important mother in your life.
The ribbon was threaded using the script. The vertical threading was made by first rotating the whole project by 90 degrees since the script will only work on a horizontal ribbon.
The detailed edge was made using the Edge font along a vector path. Isn't that neat?
This card is in PNG format so just about anyone can use it.
You need to be logged in to download this sample. You can either login, or register on the top of this page.
News from the Campus
Congratulations to the winners of the BIG Show Off contest:
Filter Forge 3.0 - Mizfit Mania
PSPX5 - Giovina Rosignoli
PSPX5 - Mireille Fratini (mimi13)
5 Master Classes - Karon Day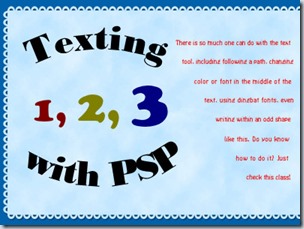 what are all those settings for?
how do you get text on a path?
how do you get the text at the bottom of the circle to read upward?
how do you type a text INSIDE a shape?
what else can you do with the text tool?
the text tool can be used for other purpose than text; like what?
a few neat tricks to use with the text tool
Date: Sunday, May 5th, 2013
Time: 5pm Eastern Time
Cost: FREE!
Register now and send us your "text challenges"