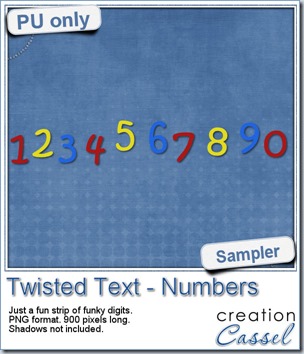 Using a kid like font and three primary colors, i created this fun series of digits using the Twisted Text script.
This series is about 900 pixels long, so you can repeat it over and over again around a photo or a layout for a kid related theme layout or even a school themed layout.
Each digit is well separated so you can also cut some out and use the individual digits separately if you prefer. Why not?
You need to be logged in to download this sample. You can either login, or register on the top of this page.
Do you like this strip of digits? There are two more strips with alphabets (lowercase and uppercase) in the newsletter.
Register for the newsletter now, so you don't miss them.