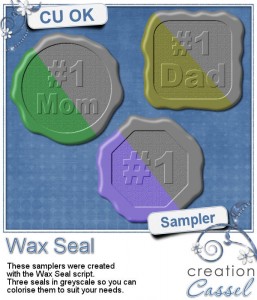 Here is a little sample of what my Wax Seal Script can do. These seals are in greyscale so you can colorise them to match your layout or your kit.
How about a little contest here? Download these and let's see who will be first to show me a layout using one of them. I will have a surprise for the first person to link me to a layout in a gallery using one of them.
And while you are looking at this blog, what do you think of this new preview? How does it compare with the previous one i used? I'd love to know what you think.
And Enjoy!!
You need to be logged in to download this sample. You can either login, or register on the top of this page.