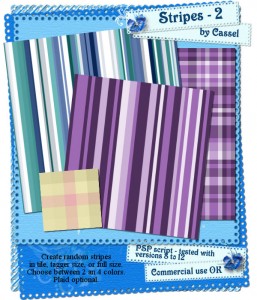 Let this script create multicolored striped patterns. You can choose 2, 3, or 4 base colors and also choose the width of the stripes, the type of contrast between them. You can choose if you want the stripes to be regular or irregular, and their width. You can generate a 200 x 200 pixels tile, or a tagger size page, or a full-size page with those stripes. Since there is a randomization function in the code, it is possible that all the colors you provide are not all included in the end result. But since it is so quick to do, you can generate dozens of patterns in just a few minutes.
Once the paper/tile is done, you also have the option to create a plaid from it (leaving the striped paper intact for better matching). Then, it is up to you to add texture or other effects to your newly created paper.
Available in the store: Stripes 2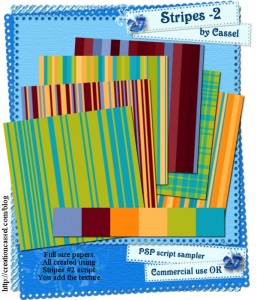 Here is a sample of what you can get with the Stripes #2 script. This sampler includes 6 full-size papers. The papers are all plain, with no texture so you can personalize them. They were all made using the palette included.
You can use those papers as you wish (personal or commercial use), and with the palette included, you can create more papers or elements.
You need to be logged in to download this sample. You can either login, or register on the top of this page.