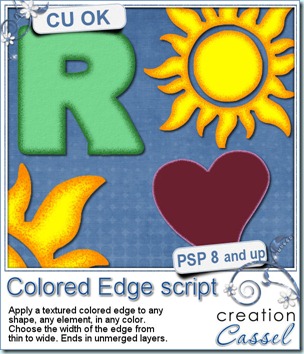 In just a couple of clicks in your Paintshop Pro, you can add a colored and textured edge to ANY shape, of ANY size and you choose the color and the width of the border. Whether you want to add a colored edge to an alpha, a preset shape, or even a cut up photo, this script will make it a breeze.
The script will create TWO colored edge layers and leave them unmerged. Once the script is finished, you can merge the layers, or play with the opacity, the blend mode or simply separate them to use only the edges without the base shape. Perfect to add a little detail directly onto a photo, or on your background paper to include some journaling.
You can get this script in my store: CreationCassel
If you want a chance to win this script for free, just go add your name to this thread in the DST forum, and tell me what you can think you could use this script for. I will be back on Monday night to announce a winner.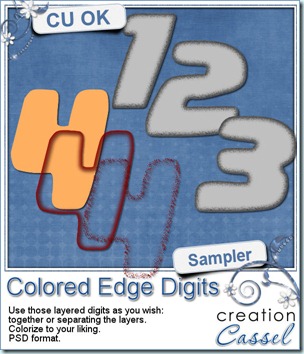 I know, you also want to have a peek at the result of this script by downloading a free sample, right? Well, I cannot disappoint you, can I? So here is your sampler. It is a set of digits in greyscale, layered in PSD format. You can easily recolor each layer separately, merge them or use them separately too. This set is CU.
You need to be logged in to download this sample. You can either login, or register on the top of this page.
News from the Campus
The PSPX4 special is still in effect, but hurry as it is only until Sunday, Oct 16th! Get PSPX4 FULL version, downloadable or boxed for $39.99. This is a HUGE deal as it is 50% of the regular price. Hurry and grab it while you can.
(although i am an affiliate for Corel, this special is NOT through my affiliate link)
Did you have a look at the Webinar on Shadows? It is available for viewing for free. We showed tips for flat shadows, lifted shadows, cluster shadows and fantasy shadows. See what Carolyn said about the Webinar on shadows:
Cassel,
Thanks so much for posting your webinar on shadows in PSP.  I learned a whole lot!  I know that this will help my layouts as well as the presentation of my kits.  Thanks!
I look forward to future webinars  Unfortunately, I won't be able to join them live if they are held on Sundays.  However, I can still learn from them by viewing them online.  Thanks again for these great resources!!
Carolyn S. Ritter
So what are you waiting for? There are 2 webinars available already. They are FREE. Check Webinar on Shadows And while you are there, you might as well register for NEXT Webinar. It will be on changing photos from day to evening/night and from summer to autumn/winter. Just like magic! And you can use ANY version of PSP.
Finally, The Basic Scrap Course with PSP is still on special and registration at the special price, with the special bonuses will only be until Sunday, October 16th. The registration will give you access to 12 units, 36 lessons, 45 video tutorials, with matching handouts you can download. And all that for unlimited access. Your registration will not run out after 6 months. It will not run out after you view all the videos. You can keep referring to them forever, with NO additional fee. Registration this weekend will give you a coupon for $5 from Mariscrap, 26 layered templates, 50 sketches, and a chance to win a copy of the DVD Slideshow Builder Pro to create fantastic slideshows with your photos or layouts. Perfect to prepare Holiday presents ahead of time!
Register Now for the Basic Scrap Course with PSP