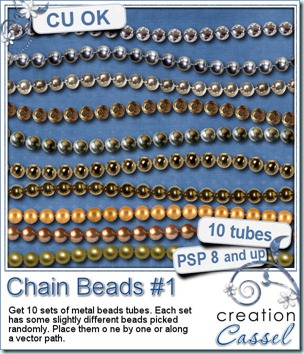 How about some metal beads to create necklaces, bracelets, frames, or any other element you can think of using "ball chain"look? You can now do it with those great Paintshop Pro Picture tubes. These sets of beads are not going to make a boring row of totally identical beads, but they incorporate some slight differences in the beads so it looks more realistic. You have some gold beads, silver beads, brass beads, and more. You can place them one by one by simply clicking here and there and everywhere. You can "draw" with them as they will follow your mouse movement as if you were drawing a line. Or you can also place them evenly along a vector path you could have drawn with your favorite tool. Use the Pen tool to create a base "thread", and then use the Vector Tube script to place the beads along that path, for a great free flowing chain look.
Use the default settings, or change the size or the step for a different and custom look.
You can get these tubes in my store : Creation Cassel.
And how about a chance to win them all? Check this thread in the DST forum. Tell me what is your favourite set of beads and you might with them all.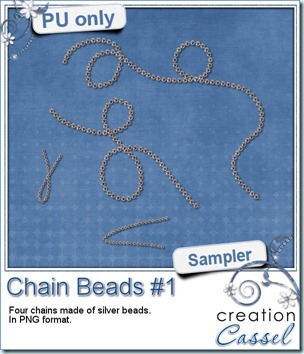 Time for a nice little freebie. I created those chains for you to incorporate into your layouts. There are 2 long chains and 2 small ones. The small ones can easily be used to attach a tag or other elements. They are in PNG format, so they should be useable in most graphic program.
You need to be logged in to download this sample. You can either login, or register on the top of this page.
News from the Campus
Last week, we had a webinar on using shadows. The most fun part was to show how to use layered shadows in clusters to make a fantastic end result. Most participants commented on that technique that was new to them. The webinar was recorded and should be available soon (hopefully this weekend), in the Webinar section of the Campus. It will be accessible to all registered members of the Campus (registration is free). The next Webinar will be organized this weekend, so you keep an eye on that page.
Did you want to register for the Basic Scrap Course? Did you postpone that decision? You might want to keep a close watch on the Campus as there will be another promotion coming up soon. You might want to join our many other members in the classroom. I can see several members having a blast with what they learn with the tutorials.
Big special for Paintshop Pro X4
Corel is having a big promotion for a limited time only. You can get a FULL version of PSPX4 for $39.99. We are not talking only update, but a complete version (the update is the same price too). This promotion is only until October 16. And if you have an old version of PSP, there is NO NEED to upgrade since you can run both versions side by side; you can get the newest tools and features, and still use the interface you are used to. And yes, you can have multiple versions installed on the same machine: i have versions 8, 9, X, X1, X2, X3 and X4 installed at the same time (occasionally, i even RUN 2 or 3 simultaneously when i am testing scripts).
(although i am an affiliate for Corel, this special is NOT through my affiliate link)