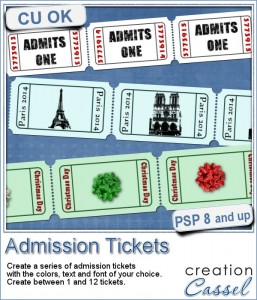 You can probably find a few tickets in your stash, maybe from game night theme kits, but what if you don't want to create a game night theme project? What if you want to use those tickets for a completely different purpose?
This Paintshop Pro script will create a series of admission tickets (or you can create a single one if you prefer) with sequential numbers on each ticket. Or you can add custom text instead, like a date, a name or an event.
Use the center area to include a design, a message, or an image. You get to choose so many options.
No more game night theme for you. Have a series of tickets in Christmas colors for your holiday layout. Or create some pink ones with various heart brushes or design. Or maybe add a single letter on each ticket to spell out the name of a grandchild?
You can get this script in the store: Admission Tickets.
How about a chance to win this script? Add a comment below and tell me how you would use admission tickets in a digital project. I'll announce the winner in the newsletter next week. Not a subscriber yet? Not a problem. You can register here and it is free (and you only get one email per week).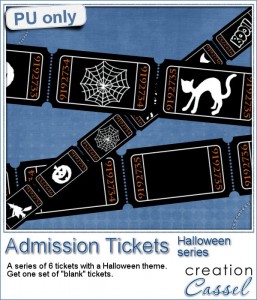 This week, being close to Halloween, i created a set of 6 tickets attached together. They each have a number, but in a sequence. Unlike traditional tickets, the lines are white on black paper. After all, in digital, we can do things that are not seen in real life!
Each ticket has a little Halloween design on it. It is easy to add a vector shape or a brush stamp on those tickets. Of course, you can use all the tickets together, or you can cut them off.
I am also including a "blank" set of tickets, without the designs in the middle so you can add your own.
You need to be logged in to download this sample. You can either login, or register on the top of this page.
Remember to show us how you use those tickets!