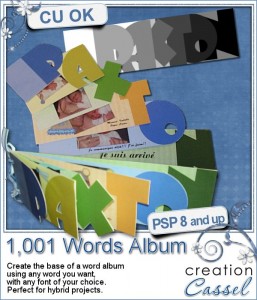 The preview shows a layered card i made for a collegue, after she had her baby. I had only a few reasonable pics so there was a lot of empty space on the pages, but this turned out perfect so everyone at work was able to sign and add a little note to her.
You can do the same with this script. You can use ANY word, and ANY font, so the possibilities are endless. The templates can be 1000 pixels high (about 3 inches) or 1800 pixels (6 inches). It is up to you to choose what you want to do, and also if your computer can tolerate the resizing step.
What can you do with the resulting template? you can make page templates (remember it is CU), you can make quickpages to match your newest kit, you can make them into pages for yourself. I am sure you can think of other uses too!
You can get this script, on sale this weekend at my store: CreationCassel,
And for a chance to win this script, check this thread at DST. Remember to tell me what word and what font you would use!