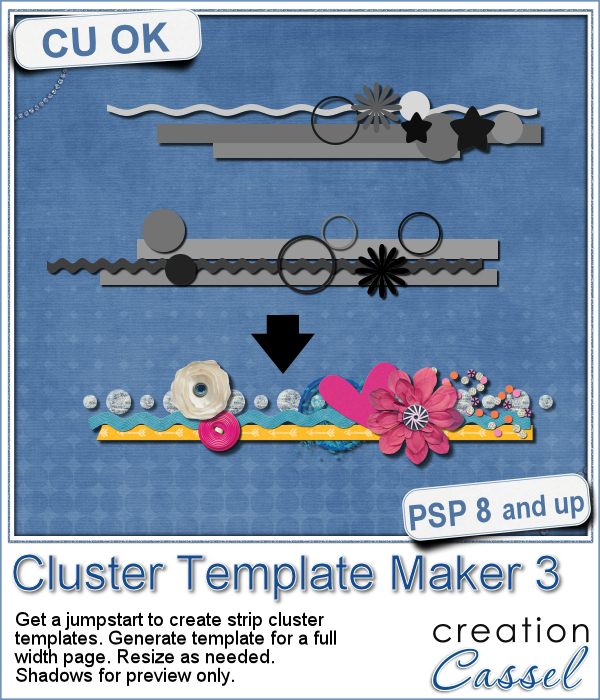 Creating clusters can seem like a daunting task when you just end up staring at the screen, wondering what element to use, where to put them, resize them or not, etc.
This script is a tool that can help you get passed that step by generating a cluster template that you can then tweak to your liking. Like for any other template, you are not required to follow it exactly, but instead, customize it and make it your own.
This script will create a "strip cluster" that you can use on a full size project, as they end up around 3200-3500 pixels in width. Use them horizontally, as they are created or rotate them vertically, or, why not, use them as an angle!
Grab this inspirational tool script in the store: Cluster Template Maker 3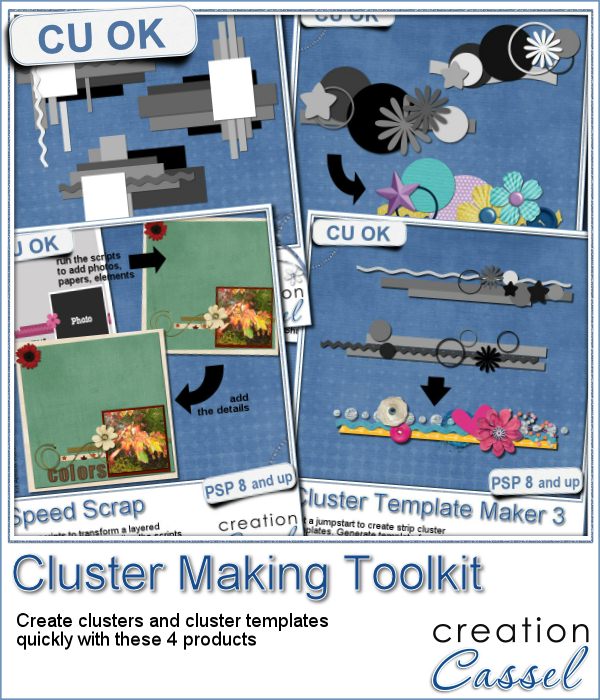 If you are into clusters, you can get all three Cluster Template Maker scripts AND the Speed Scrap Scripts as a Tool kit bundle for more than 30% discount.
That bundle includes this week's Cluster Template Maker script but also two other scripts to generate different types of Clusters. In addition, you get the 3 scripts included in the Speed Scrap Scripts that will help you replace the elements in your template by elements from your kits, all in a fraction of the time you would need to do it manually. A REAL time saver!
Do you want a chance to win this script?  Tell me, in the comments below, how you usually manage to create clusters (if you create them). Do you use pre-made clusters? Do you use cluster templates? Do you work a long time to place the elements manually? I'll announce a winner in the newsletter, next week. Not a subscriber yet? Not a problem. You can register here and it is free (and you only get one email per week).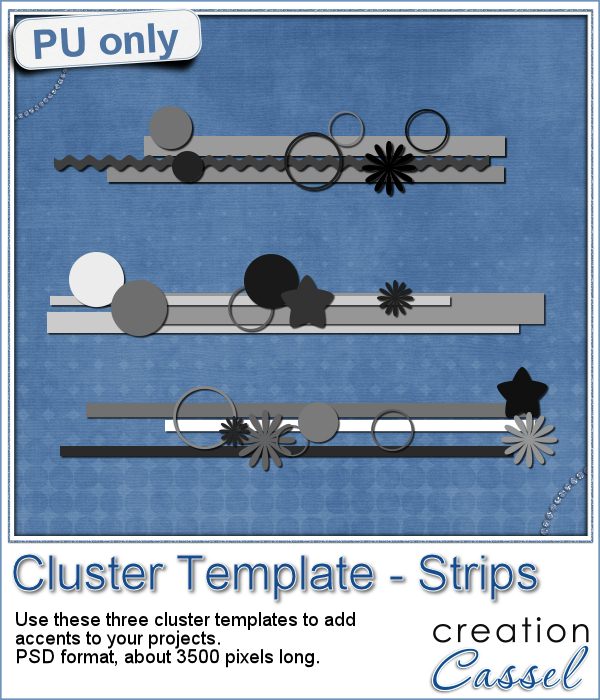 For this week's sample, I am actually including THREE cluster template strips that were generated using this script.
Each template would nicely fit on a 3600 pixels project. Use them as is, tweak them, rotate them, add or remove elements, change the layering, etc. Basically, make them your own.
The shadows are only for the previews since there is no way to tell what type of element you will use for each shape.
Can I challenge you? Would you take one of those templates and create a project to share with us?
You need to be logged in to download this sample. You can either login, or register on the top of this page.

News from the Campus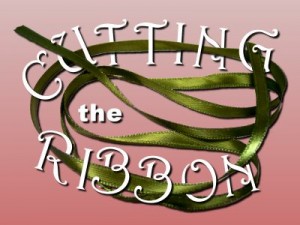 Join us for our live presentation, this Sunday, at 5pm Eastern time.
We'll look at various ways to use and manipulate ribbons in your digital projects.
Remember that it is FREE.
And bring a friend along.