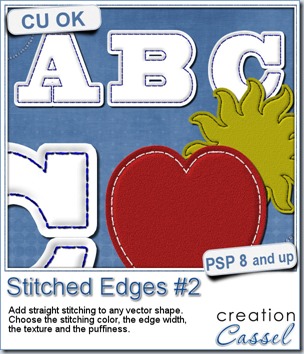 If you love the look of stitching around the edge of elements, letters and shapes, you will LOVE this script. It is using a simple tube to create the stitching, and another tube for the holes.
Using any vector shape, you will just run a free script (that you'll have to download separately) and follow the steps. The script integrates various options, like the width of the edge, the puffiness, the texture of the element and even the color of the stitching as it will colorize it for you. However, in the end, you will have unmerged layers, so you can tweak the color further, or add other details to the element, like shading, stains, or other printing.
Use preset shapes or draw your own. It is also great to create alpha in a (almost) single operation.
The zip file includes the thread and hole tubes that you can also use separately, in other projects.
You can grab this Stitched Edges 2 script in my store.
If you want a chance to win this script, check out this thread in the Happy Place and tell me what element you can think would really use some stitching around. I'll be back next week with the name of a winner.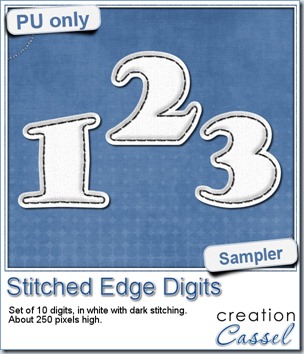 For this week, i decided to play with the idea of creating a whole alpha in one run with this script. I started with the digits (as there were fewer elements in the end). On a large image, i typed in the digits in white. I had to adjust the kerning to make sure the letters would not touch each other when the edge was added. Then, i ran the script. Everything went smoothly from there. I added the texture that came with the Clothes Label script to give a more "fabric" texture to those puffy digits.
Once the whole set of 10 digits was done, sewn and puffed, i just used the Alpha Sheet Separator script to cut out, and save all the individual files. That took less than one minute!
You need to be logged in to download this sample. You can either login, or register on the top of this page.
With the speed and ease of doing this set of digits, i could not help myself than repeat the process with the full alpha! And you can get it in the newsletter. If you have not yet subscribed, fill out the form on the left.
News from the Campus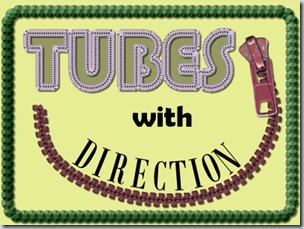 This month, the live presentation will be about directional tubes. Do you know about those? Do you know what they are? Did you ever use them? Although you might know that Picture tubes are unique to Paintshop Pro, you will love to learn that the directional tubes are so much more powerful!
Join us this Sunday, March 2nd, at 5pm Eastern Time.