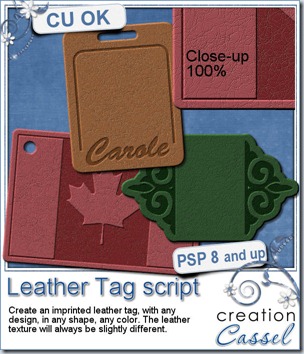 There is always a way to use a leather tag, whether it is attached to a key chain, as a label on a jeans pocket or a travel tag on a luggage. This script will let you create your own custom tags, of any shape, with any kind of imprint on it.
Write a name, a date, a place, an event. Make it into a frame. Attach it to a chain, a string or a ribbon. Make an alpha if you want.
The leather texture is not the same for every run of the script since there is a little random feature included in the code so even if you run the script twice on the same shape, using the same colors, you will not get exactly identical tags.
The possibilities are endless.
You can grab this script in my store at Creation Cassel.
As usual, there is a thread in the DST forum where you can add your name and be entered into a draw to win this script. Go check it out HERE and remember that if you want to take advantage of the weekend sale price ($4.50 until Sunday night), and you win the draw, then, you can win a coupon for a future release. So don't delay.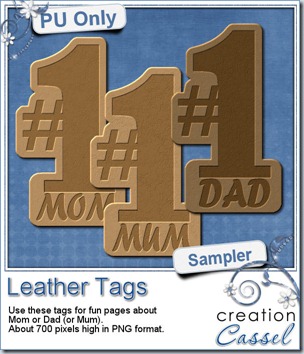 I am sure you want to have a look at these tags, before purchasing them, right? Of course. So i created a few free samples for you. You get 3 instead of 2 because i know that our UK friends are using a different spelling than the commonly seen "Mom", so to give them an opportunity to use this freebie, i made one with "Mum" too.
You need to be logged in to download this sample. You can either login, or register on the top of this page.
If you use this freebie in a layout, i would LOVE to see it, so don't be shy. Show off your masterpiece!
News from the Campus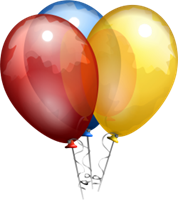 We had a great participation in our Anniversary draw. Our winners are as follow:
1st prize: Eileen Deliot – the complete set of Workshops
2nd prize: Bernice Byrd – a copy of PSPX4 Ultimate
3rd prize: Joanne Bockelkamp – one course of her choice in the Campus
4th prize: Yobeth - $25 gift certificate from Persnickety Print
Congratulations to the winners!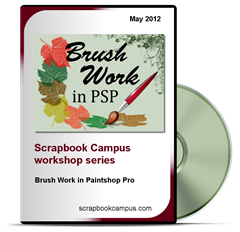 Did you think that the celebrations are done? No way. We also have also an Anniversary Workshop Bundle for you. This is perfect for you to learn a lot of tricks you can do with your photos, your scrapbook layouts, your card making projects. You might even find out some things you never knew Paintshop Pro could do!
- What is the Brush variances palette about and how can it make your life easier when using Brushes?
- how can you create your own seamless designs for scrapbook papers, cards, or even website background?
- What the big deal is about Picture tubes?
- How can you tame those wild Vectors?
- Can you change your wardrobe without a shopping trip? Sure! With the colorization tricks!
And much more! Check out the Anniversary Workshop Bundle and see how you can save almost 60% of the price AND you also get the convenience of a downloadable version if you want AND the detailed handouts you can print or read on your computer.
But you better hurry because the offer is only valid until July 10th!
Check out the Anniversary Workshop Bundle
And finally, it is time to register to our July Workshop on Customizing your PSP. It will take place this Sunday, July 8th, at 5pm Eastern time (GMT-5)