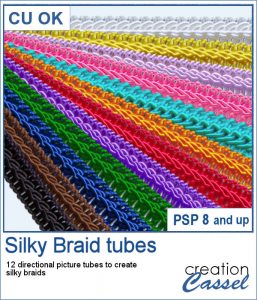 Directional tubes are perfect to create decorative elements in any length and shapes. These are no exception. They are extracted from silky braids and tweaked to be directional and as seamless as possible. You get 12 different colors of silky braids to use in various ways, to create straight trims and frames.
You can use your cursor to make freehand designs or use the VectorTube script to create very regular shapes too.
Get it in the store: Silky Braids
In order to win this script, add a comment on this Facebook post telling us what you what tends to be your favorite color for trims (remember, add a comment, not just a Like!) The winner will be announced in the newsletter, next week. Not a subscriber yet? Not a problem. You can register here and it is free (and you only get one email per week).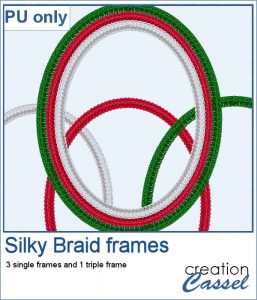 For a sample, this week, I created a triple frame but also included the individual frames so you can use them separately. I simply started with a vector ellipse and ran the VectorTube script. I changed the size of the ellipse every time to have different size of frames without resizing the frames (or the trims) themselves.
You need to be logged in to download this sample. You can either login, or register on the top of this page.