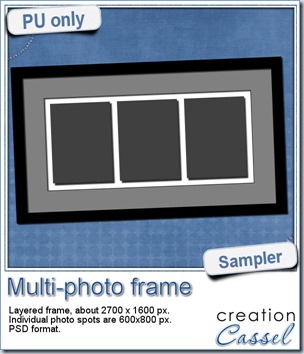 What would you do with a multi-photo frame? Here is one such frame created with the Multi-Photo Frame PSP script. Each photo placeholder is 600x800 pixels, which would match a 3x4 inch photo (just resized).
All the layers are left unmerged (including the shadows), so if you prefer to combine two adjacent photos into a larger one, you can do it on another layer, and remove the initial two.
How about removing the middle placeholder and have the photo under the white mat? Yes, you can do it as there is a hole hidden under that placeholder, complete with its shadow too!
This frame is in PSD format, so even non-PSP users can play with it.
You need to be logged in to download this sample. You can either login, or register on the top of this page.
(if the link is not active, just login or register on the top of the page).
What will you do with this? Show us. You can either post in the comments below, or on the FB page HERE, or pin on our Pinterest PSP Scrapbook Pages board.
(if you don't have "permission" to pin on that board, just ask for an invite)