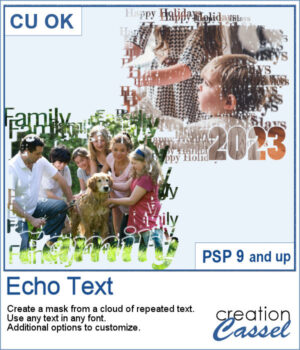 You can showcase your favorite photo with a custom mask based on the text of your choice. You can choose any text, in any font. You can finish the script by editing the original text to something different if you want. You can move that text where you want on the project, whether it is on top, on the bottom, or in the plain center.
This is a great way to add a name, a date, an event, a location, or a meaningful phrase.
Get it in the store: Echo Text
In order to win this product, add a comment on this Facebook post telling us what you would use for the text in running this script (remember, add a comment, not just a Like!) The winner will be announced in the newsletter, next week. Not a subscriber yet? Not a problem. You can register here and it is free (and you only get one email per week).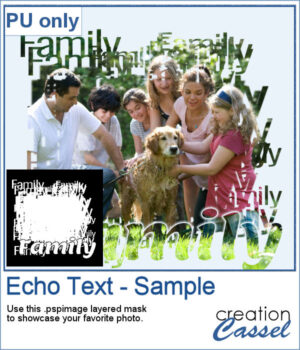 For a sample, I ran the script starting with the word "Family" in a fairly thin font, but finished it with a thicker version of the same name, placed at the bottom. This allows you to showcase your photo without interruptions in the middle.
You need to be logged in to download this sample. You can either login, or register on the top of this page.