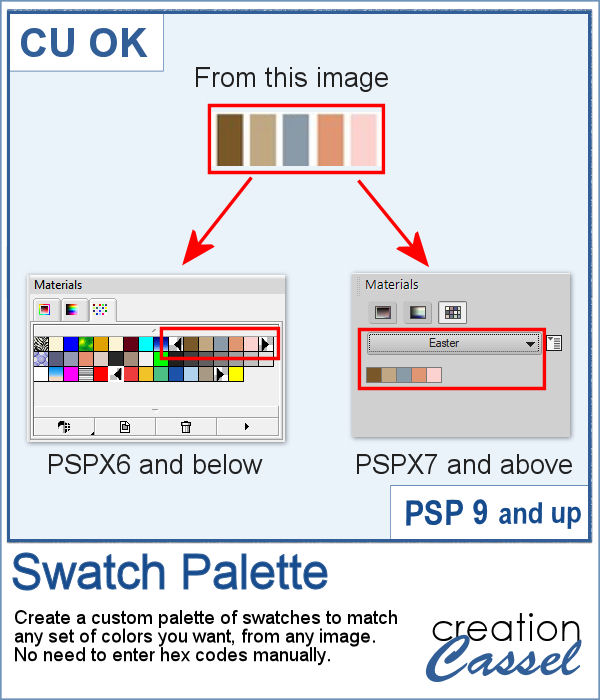 It might be easy to create a swatch palette in PaintShop Pro, but if you are starting with a large number of colors, it can be tedious. And referring to the same image whenever you are working on a project can also be annoying.
With this script, you can start with any image that includes the colors you want to use, and transfer them into a color palette available inside your PaintShop Pro. And all that, in just a few seconds. No need to pick and choose the colors or worse, have to type in the hex codes.
Get this script in the store: Swatch Palette
In order to win this script, add a comment on this Facebook post telling us if you ever created your own custom palette (remember, add a comment, not just a Like!) The winner will be announced in the newsletter, next week. Not a subscriber yet? Not a problem. You can register here and it is free (and you only get one email per week).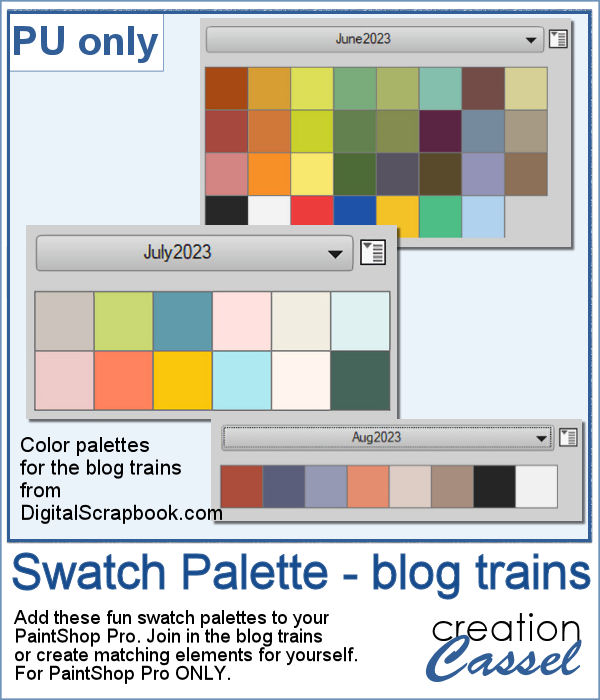 As a sampler, I used the color palettes for the next three blog trains in the DigitalScrapbook.com forum and converted them into palettes you can simply add to your PSP. Two versions of the palettes are available: one for versions 9-X6 (identified with V9 in the name) and one for versions X7 and up (identified with VX7 in the name). Unzip the ones you need for your version and save the files (or the whole folder for versions X7 and up) in the Swatches folder of your PSP. Since they are different for different versions, don't put everything in the same place, if you have earlier and older versions of PSP referring to the same content folder. If needed, simply put them in the default folders, in Documents.
You need to be logged in to download this sample. You can either login, or register on the top of this page.