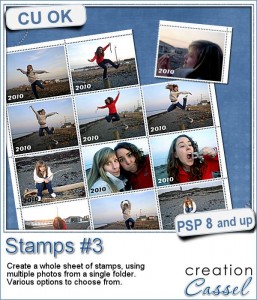 You might like the idea of turning a photo into a single stamp, or a full sheet with the same image repeated over and over again, but why not create a full sheet with different photos? This script can let you use a different photo for each individual stamp or use a few photos repeatedly.
The script offers you the choice of the number of rows and columns and the rest will be done automatically for you, after you open one image from the folder where all the photos are stored.
Furthermore, just like a real stamp, you can add text (like the value or the country) and you can be creative and add a date, a location, or a name. Talk about a fun way to display many photos of a single event or theme.
You can get this script in the store: Stamps #3.
If you prefer to create just a single stamp, you can use the Stamp script, and if you want a full sheet with a single image, you can use the Stamps #2 script.
If you want a chance to win this script, add a comment below telling me what text do you think you would add to a series of stamps like these. I`ll announce the winner in the newsletter, next week. Not a subscriber yet? Not a problem. You can register here and it is free (and you only get one email per week).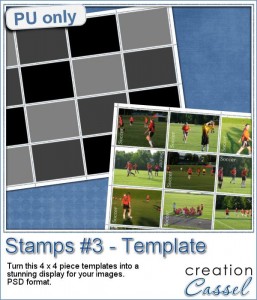 Since this script uses your own photos, i doubt you would have had any use for a full sheet of my photos! So i figured i could make a layered template with this script. You get a PSD file, and you can clip a photo of your choice to it, or just re-size your photos to fit the space available.
After that, you can manually add the date, value, or other text on each individual stamp. Of course, it will be a bit tedious (something you would not have to worry when using the script), but in the mean time, that is one alternative for you, or if you are using a non-PSP program.
You need to be logged in to download this sample. You can either login, or register on the top of this page.

And remember to post your result in the collective PSP Scrapbook Showcase pinboard.