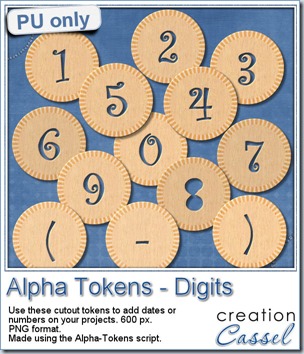 Everyone loves numbers. You can obviously use digits to write a date, you can use it to identify an anniversary or a birthday. You can use it to make a list of the 10 things you like or the 5 places you want to visit. You can use them to count elements or people in a particular photo or at a particular event.
Using the Alpha-Tokens script, i created this set of digits (with a few useful symbols if you want to write a date).
I used the font called Curlz MT. It is a fun and curly font and a wooden base.
Each token is 600 pixels in size so you can size it down if you need to.
You need to be logged in to download this sample. You can either login, or register on the top of this page.

In this example, i created a little eyelet with the vector tool, in white and then, applied a Super Blade Pro gold effect. I made a hole in the tokens themselves too. The string was done with using a Twisted Rope tube on a vector path with the Vector Tube script. Then, in order to "thread" the rope in and out of the eyelet, i used the simple interlacing technique illustrated in this tutorial.
Time to sign up if you haven't yet.