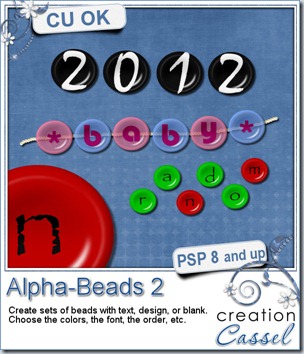 Unlike the previous Alpha-Beads script, this one will generate a different type of beads, but the basis is the same: you choose the font, the text, the color of the bead, the color of the text, the transparency. You can also choose whether you want the colors (of the beads or the text or both) to be all the same, or using multiple colors and if using more than one color, if you want them in sequence or randomly picked.
You can type in any word or phrase, and the script will create a bead for each character, whether it is a letter, a digit, a symbol or a space. You can also create blank beads, or a bead where you will add your own design that is not in a font format.
These beads give the impression of being slightly indented. Attach them with a string, a pin, a toothpick, a chain, or glue them on their own to create dates, names, phrases, titles, etc.
You can get this script in my store: Creation Cassel
In the Happy Place, there is a draw for this script. You can win this script on Monday if you add your name to the thread. But that is not all. EVERYONE who posts in the thread will win something. Place your order of what kind of beads you would want, and on Monday night, i will draw for one order and EVERYONE will get that order. So even if you are not a PSP user, you can enter and you WILL win something. Go for it!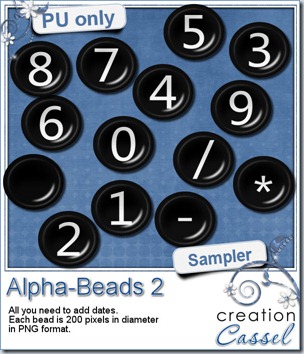 This week, i created a simple and versatile set of alpha beads with digits, a blank and a few symbols that can let you create dates.
You need to be logged in to download this sample. You can either login, or register on the top of this page.
A full set of beads for the whole alphabet will be available to our newsletter subscribers, so you can complete this set.
Our newsletter is released on Sunday morning, so you still have time.