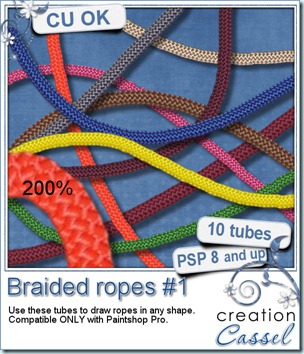 This week, my new release is NOT a script, as you might expect, but it is still a PSP specific product: a set of 10 tubes. If you are not too familiar with tubes, you might have seen some in your PSP, and they look like individual pictures that you can place here and there on a layout or other montage. These tubes are more than that. Although they are made of individual images, they are made to follow wherever you draw, and create a rope along the way. You can hand draw any line, or apply this string along a path or even around a vector shape for a regular look.
You get 10 individual files, in 10 different colors. If you want to de-saturate them, you can. You can draw loops, bows, strings, doodles, etc.
You can get this set of 10 tubes in either one of my stores: Creation Cassel and Do It Digi.
And if you want a chance to win this set, go add your name to this thread at DST forum.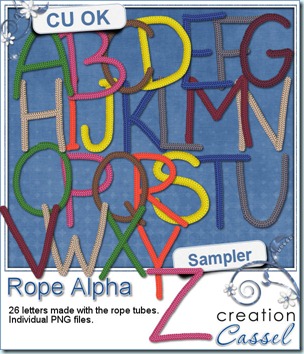 If you are still unsure about how good these will really look, or if you are not a PSP user and would still like to use something like that, i made a simple hand drawn alphabet. You get 26 individual PNG files for the 26 basic capital letters.
You need to be logged in to download this sample. You can either login, or register on the top of this page.
So, what do you think of this? Did you notice that it is called Braided ropes #1. Well, in the near future, other sets of tubes will be released, but i am not telling you when it will happen. You will have to follow this blog, or follow me on twitter to find out!