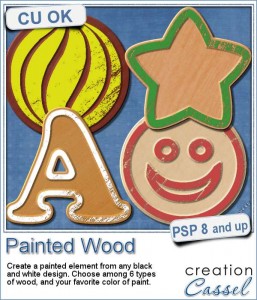 Whether you are creating a scrapbook page or any other graphic project, painted wood elements could add a special touch. And when you can choose one of SIX types of wood, when you can choose any shape, any design and any color, you are sure that your elements will be unique.
There are so many ways to coordinate them with your project, the theme and the the colors.
The script will use a black and white version of your design, leaving the white as bare wood and the black as painted. You will also get a textured paint that will match the grain of the wood, even though the script will randomize the angle and the scale.
You can get this script in the store: Painted Wood.
For a chance to win this script, add a comment below telling me what design you would first use to run this script on. Would you rather do alphabets, arrows, frames, basic shapes, etc.  A winner will be announced next week. Not a subscriber yet? Not a problem. You can register here and it is free (and you only get one email per week).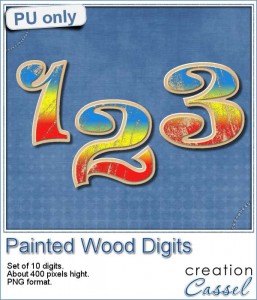 As a free sample, this week, i created a fun set of digits. I used a black fill and a white outline to set the inside to be painted by the script. And instead of a solid color, i used a gradient with the 3 primary colors.
I have to say that i am particularly pleased with the end result. With those primary colors, you can easily embellish a child theme project, or a school theme layout.
You can use those to indicate the child's grade, his age, or the actual year a photo was taken.
You need to be logged in to download this sample. You can either login, or register on the top of this page.

#CorelChallenge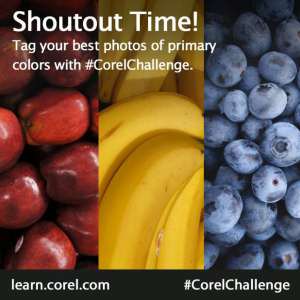 Did you hear about the #CorelChallenge?
This week, you can send in photo, scrapbook page or other graphic projects based on primary colors. Here are some ideas for you:
create a monochrome layout
use an ordinary photo, turn it in black and white and make one of those primary colors reappear (here is a tutorial).
create clusters with elements in primary colors (buttons, ribbons, flowers)
use the free digits above to add a colorful date
Go for it. Let's show how we can use primary colors in projects OTHER than just photos. You can do it!