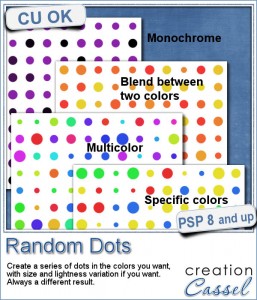 There are super simple ways to create regular dots in an even pattern. If you want a speed up tool to create a variety of polkadot tiles, you can use the Dots and Diamonds script. But if you want to create something that has more variety in the dots yet, still be regular, what do you do?
That is why I created this script. It will create a dotted pattern but with a completely different type of result with different options.
You can create a tile that you would use as a seamless pattern, or a full size paper where you will have no repeat at all. In addition, you have various ways to pick the colors. You can have a monochrome pattern with only lightness variations. You can have blended colors between two. You can have specific colors picked from your palette with no blending at all, or you can have totally random colors picked.
The dots can be created on a new image or take an open image and add them on a separate layer.
Use the end result as you wish, adding effects if you want.
Grab this script in the store: Random Dots script.
For a chance to win this script, tell me what you would do with those dots. Would you apply them to something? would you add a particular effect? Tell me in the comments below and i'll pick a winner next week to be announced in our newsletter. Not a subscriber yet? Not a problem. You can register here and it is free (and you only get one email per week).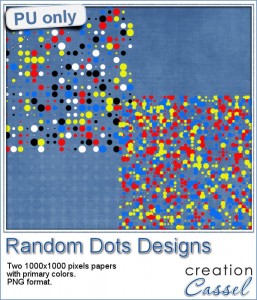 How about a little sample of that dot making machine? I created 2 patterns for you. One is made of primary colored dots (plus black an white) in a very regular pattern, where nothing touches the next dot. And one other in primary colors only where the dots are smaller and somewhat overlap.
Each pattern is 1000x1000 pixels (beware that one of them is not seamless ass some dots are over the edge of the image).
They are both png files so you can use them in most graphic programs. Add a background, apply an effect, use them as tiles, etc.
You need to be logged in to download this sample. You can either login, or register on the top of this page.

New in PSPX8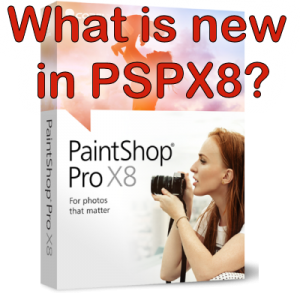 This week, Corel released the latest version of Paintshop Pro, which is version X8.
It has some great new features and those will be particularly welcomed by scrapbookers, card-makers and other graphic artists using PSP for other than photo retouching.
Do you want to read more about those new features? Check out this blog post in the Campus.