Nobody will ever say they have enough bows in their digital stash!
This script is one of the most detailed bow script that i have done, as it allows you to choose your own straight ribbons to create this bow. With the option of creating three layers of loops, using one, two or three different ribbons, and the choice of the number of loops to include, this script will let you create an assortment of bows for various occasions.
The script also includes a random option for the number of loops but also for where in the original ribbon, the pieces will be taken from, meaning that if you have a ribbon with a particular design or color variations, the script will always take a different section for every run.
Each loop is left on separate groups, allowing you to move them if needed (or you can remove some if you want, or tweak them any other way).
Grab this fun script in the store: Bow #10
See how this script works:
What would you do with such a script? Would you likely use the same ribbon for each layer or use different ribbons for each? Or would you use the same ribbon but colorized differently? How would you use this script and customize the end result to be unique? Share your ideas in the comments below. I'll pick a winner and will announce it in the newsletter, next week. Not a subscriber yet? Not a problem. You can register here and it is free (and you only get one email per week).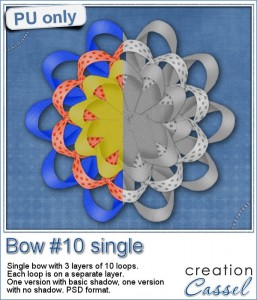 This week, i created a three layer bow using two different greyscale ribbons (from Melissa Bennett). Each loops is on a separate piece (i merged the individual piece for each loop) so you can colorize each row as you wish, or even each loop as you wish.
Each layer has 10 loops.
The zip file includes two PSD files: one with basic shadows added, and one with no shadow at all, so you can add your own if you want something very specific.
Use the same color for each layer, or change for each. Or use the same hue but different brightness settings. Or go crazy and have a different color for EACH loop.
Since the last loop in the bow is kind of standing out, it is a perfect place to add a center piece, buttons, jewels, etc.
You need to be logged in to download this sample. You can either login, or register on the top of this page.