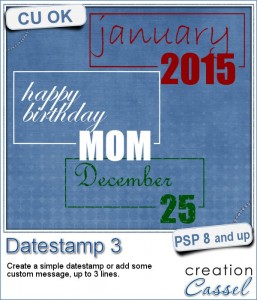 There are so many ways to add a date on a project, but even though they might be fairly easy to create manually, it is often taking a little bit more time than we really need, and if we ever want to create a series of them, it multiplies the challenges of making them fast, but also accurate.
This script will create a simple datestamp to add a month and date, or month and day for you. But, since you can choose any text you want, there are ways to be creative with it and have something else than a date, like a greeting, a short phrase and much more.
Since you can choose any font for the inside text, you can really create something with various themes, or moods, depending on your actual project.
Grab this fun script in the store: Datestamp #3
For your chance to win this script, tell me what ELSE than a date can you imagine using this script for? Show us your creativity and share more ideas than what i have! I'll announce a winner in the newsletter, next week. Not a subscriber yet? Not a problem. You can register here and it is free (and you only get one email per week).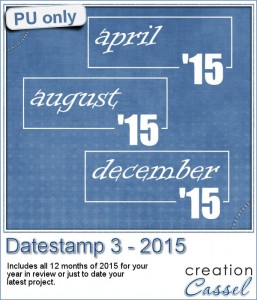 For a sample of this script, i created a series of 12 stamps, for each month of 2015. They are in png format.
You can use them to date your projects or your photos, or as a way to date your year in review project.
Each element is about 500 pixels wide, and although they are white, you can easily colorize them by first lowering the brightness to turn the white into a grey.
What project can you add those to? Maybe a layout that is already done and is still requiring a fun way to date it?
Remember to show us what you do with those. Either link in the comments below, or pin it on our group board.
You need to be logged in to download this sample. You can either login, or register on the top of this page.