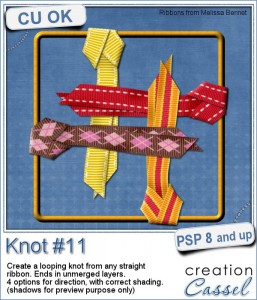 We never have too many knots and bows, do we?
This script is all about creating that knot that you can use to tie an element like a ring, a tag, or anything that has a hole on the edge.
Interestingly, unlike other knots (or bows), this script allows you to get the correct shading whether you plan on using the ribbons toward the left, or the right or the top or the bottom. You know that one element with the correct shading should NOT be rotated, flipped or mirrored as that shading will become incoherent with the light source. Well, this is like having 4 scripts in one!
Each layer is left unmerged (so you can tweak them), and furthermore, they are grouped so you can copy the whole set of layers to paste them on your project without having to re-align them one by one.
You can use just about any type of  straight ribbon: opaque, patterned, directional, translucent, lace, etc.
You can grab this script in the store: Knot #11.
For a chance to win this script, tell me how you can think of using this simple knot. Can you think of something even more original than others? Something a little "out of the box"? Share your suggestions in the comments below, and i will pick a winner next week. Not a subscriber yet? Not a problem. You can register here and it is free (and you only get one email per week).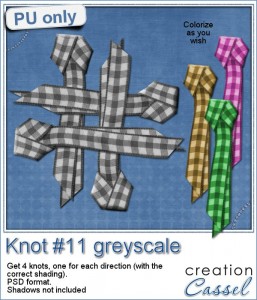 As a sampler of what this script will generate, i created 4 knots using the same starting ribbon. So you get one for each of the 4 directions.
Each file is in PSD format and the layers are unmerged. If you want to copy the whole thing onto your project and not have to merge the layers first, here is the process (with PSP):
highlight the bottom layer
right-click and select New Layer Group; click OK to the window that will pop up
activate the layer just above the group; drag it into the group, just above the previous layer (which is now in the group)
repeat for each layer
activate the Group 1 layer (above all the individual layers); copy that one (Ctrl-C) and you can paste as a new layer onto your project (Ctrl-L)
That was easy, wasn't it?
What will you do with those tied ribbons? Remember to show use your end result!
You need to be logged in to download this sample. You can either login, or register on the top of this page.