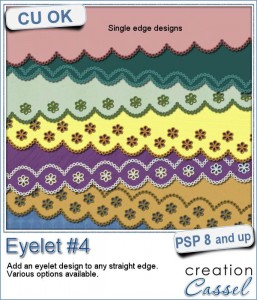 There are many designs you can find for eyelets. Some will have an edge, some will have multiple small round holes, others will have flowers and more. In the store we already had 3 other eyelet scripts, and today, we offer you a fourth one.
This design uses a slightly different pattern, with an edge made from little "eyelets", and 6 petal flowers. You can apply the edge only on one edge, or have it symmetrical to create a ribbon.
There are various options where you can choose to have only the outer edge, but you can add one or two rows of flowers and you can add another edge inside. The script is "smart" enough to know where to put that inside edge, based on what other designs you have already picked.
You can choose to apply this Paintshop Pro script to a paper or a ribbon. Both can yield very interesting results.
You can get this delicate script in the store: Eyelet #4.
Do you want a chance to win this script? Tell me, in the comments below, what you would do with the script. What element would you create or where you would add those eyelets. I will announce the winner in the newsletter, next week. Not a subscriber yet? Not a problem. You can register here and it is free (and you only get one email per week).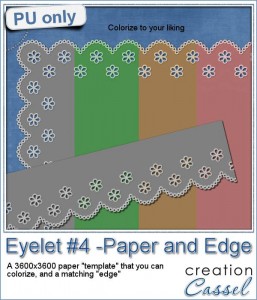 For a sampler, i created a full page "template" that you can colorize.
I started with a 3480 long ribbon (because each pattern is 290 pixels wide and i wanted the ribbon to be symmetrical), and i ran the Mitered Corner Frame script, which made an almost full size frame. With a little tweaking, i adjusted the flowers in the corners, and filled the center with the same solid color as for the base.
You can colorize this greyscale paper to the hue you want to match your project.
You need to be logged in to download this sample. You can either login, or register on the top of this page.