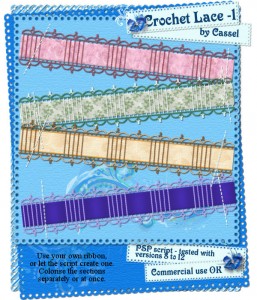 This week i created a crochetted lace for you to embellish your pages. You can use an existing ribbon of your own, or you can generate one from scratch with the script itself. You can colorise each row of crochet separately, or all at once at the end. You can also finish the script with all the layers merged or leave the ribbon on a layer of its own.
It is now compatible with version 8 and up.
You can get it at Scrapping Whispers, Do It Digi, Scraphead, Divine Digital, or at my personal store.
And as usual, it is on sale until Sunday night.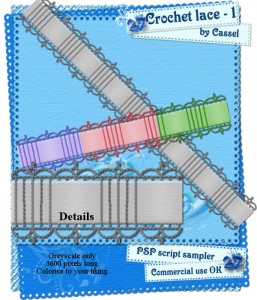 Now, do you want to see this lace up close? I have this sampler for you. It is 3600 pixels long and merged on one layer, in greyscale. You can colorise the lace to match your page, or your kit.
You need to be logged in to download this sample. You can either login, or register on the top of this page.