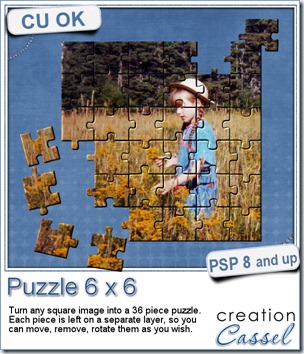 Do you like puzzles? Do you dream of turning your favorite photo into a puzzle? You can probably do it with some plugins in PSP but most of them do not allow you to tweak, move, rotate, or remove pieces at will.
This script will do just that. Take a square photo and run the script. You can also use a rectangular image, but obviously, the pieces will be somewhat stretched, but it is a puzzle anyway, so maybe it won't matter too much!
You can grab this puzzling script here: Puzzle 6x6 script.
And remember that you also have the possibility to get other puzzle scripts.
Puzzle 4x4
Puzzle 4x6
Puzzle 5x5
Puzzle Round
Do you want a chance to win this script? Post a comment in the box below telling me if you ever created a puzzle from a photo and if so, how you did it. I'll be back next week with the name of a winner.
Do you want to know who won the script from last week? Check the newsletter!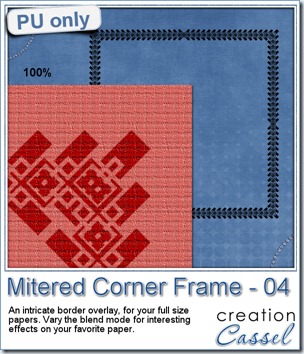 As a little gift this week, i obviously could not create a puzzle for you since you would surely prefer to use your own photo than any of mine. So i decided to give you a little frame made of corner brushes and the Mitered frame script. All the details of how i created it, will be in the newsletter.
You need to be logged in to download this sample. You can either login, or register on the top of this page.
News from the Campus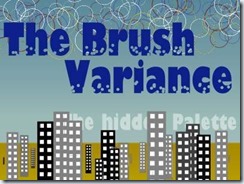 Did you know that the recording from the last live presentation is up for you to watch for free in the Campus?
And since there was so much stuff to cover, there is a need for a second part on the same topic. It is already scheduled to be on August 3rd, at the same time.