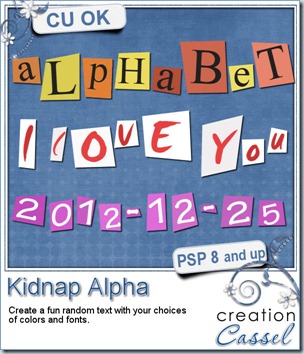 If you think that creating something very regular and even is long and tedious, try to create something that is totally random! It is not any faster, i can tell you. This script will allow our Paintshop Pro users to create totally random pieces of papers with various characters on them to write messages, titles, etc.
This script relies heavily on the random function to shuffle all the choices you decide: you can choose up to 6 colors, gradients or patterns for the papers; you can choose up to 6 colors for the text; you can choose any number of fonts; then you type in the text you want (or the whole alphabet). From there, the script will shuffle the data AND will also (if you want) randomly change the case for each letter. And even the shape of each piece will be randomized. Notice how the "2" appears 4 times in the preview, yet it has 4 different shapes/sizes/paper shades. You can even run the script multiple times with the same choices and get a wide range of results.
You can get this script in my store: Creation Cassel.
Do you want a chance to win this script? I am sure you do! You can simply add your name to this thread in the Happy Place, and tell me what kind of project could use that kind of alpha. I will be back on Monday night with the name of a winner.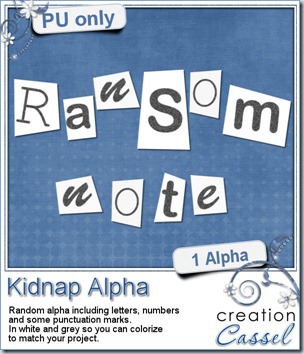 Do you want to play with some of those letters? I created a random alpha for you using this script. I used 3 different fonts and the text is in grey so you can colorize the pieces to match your project. The set includes 26 letters, 10 digits and a few punctuation marks. There is no uppercase/lowercase since they are randomized anyways.
Will you show me what you do with this alpha? I might just share it in the newsletters.
You need to be logged in to download this sample. You can either login, or register on the top of this page.