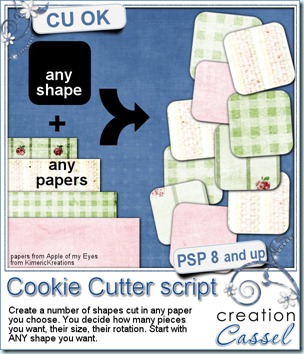 You know how cookie cutters are used to cut out cookies always in the same shape, of the same size out of cookie dough. This script for Paintshop Pro will do just about the same thing (without the dough). Unlike actual physical cookie cutters, you can use ANY SHAPE you want. You can use circles, rectangles, hearts, stars, arrows, spirals, ovals, frames, etc.
And more than choosing the shape, you can use any paper you have, colored or not, textured or not, big or small, from your stash or your kit. You can choose 1, 2, 10 papers, or how many your computer can handle open at once. The script will cut out the same shape, with some options of whether you want always the same size or slightly different, but it will cut from different sections of the papers every time. This means that even if you were to get 10 shapes from the same paper, the end result would be 10 different pieces. Isn't this great?
Now, what can you do with so many little pieces of papers? You can create clusters, strings, mosaic, borders, patchworks, and probably more.
You can get this script in both of my stores: Creation Cassel and DigiScrapWarehouse.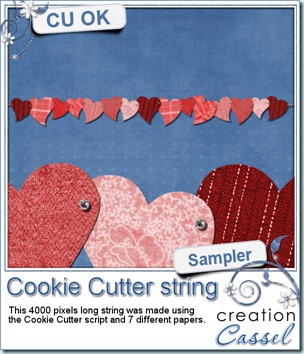 And why not try to get it for free too? Check this thread in the DST forum, add your name and wait for Monday night.
I am sure you would love to see something made with this script. Initially, i was wondering what i could make as a sampler, since this is mostly at TOOL script and useable with your own papers, but i found some textures i scanned a while ago and used just as texture, so i used those "images", colored them in red/pink shades and used a heart shape to run the Cookie Cutter script. Once done, i simply aligned the hearts, mirrored some of them and added some bead tubes i had. I think it looks cool, dont you? This string is 4000 pixels long so you can size it down a bit if you want.
You need to be logged in to download this sample. You can either login, or register on the top of this page.
Do you want to see something else made with this script? Suzy, who was the one who suggested this idea made this layout using the kit Chatterbox from Sandra of Studio 68. Click on the image to reach my gallery where she posted it, so you can give her some love. How long do you think it would have taken to cut out all those circles?