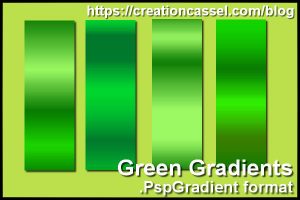 Do you like freebies? Of course, you do. That is why you are on this page, right?
This freebie consists of four gradients in green tones. Whether you want to work on a St-Patrick-themed project, or just want to make some greenery to embellish a summer page, you can use these gradients in your PaintShop Pro. These are .pspgradient files, so you just have to save them in your Gradients folder and they will appear for you, in your Materials.
And if you want more gradients, check out the St-Pat Gradients offered last year. You can grab them HERE.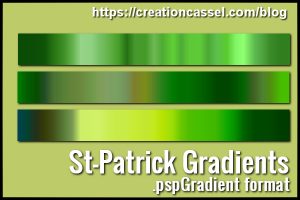 You need to be logged in to download this freebie.
If you are already registered, just login.
If you are new to this site, register below and we'll send you the link by email.