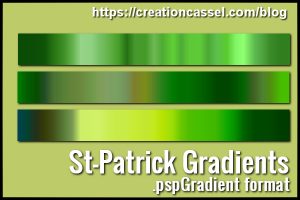 Do you like freebies? Of course, you do. That is why you are on this page, right?
This freebie consists of three fun gradients in the green tones for your St-Patrick's projects. They are in .pspgradient format so they can only be used in PaintShop Pro. Just extract the files in the zip, and place the .pspgradient files in your Gradients folder.
You need to be logged in to download this freebie.
If you are already registered, just login.
If you are new to this site, register below and we'll send you the link by email.
Check your email to confirm your address