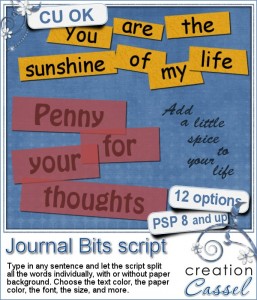 Did you ever see those paper scrap pages where a long phrase is cut up in individual words? Did you ever try to do that in digi? Most of the time, it is a pretty tedious task, but no more. This script will just do that for you, and you are not limited at all. In fact, you can pretty much decide everything. Of course, you can have the text you want. Then, you choose the font you want too, and the color for the text and the color for the paper. You can have opaque paper, or translucent. If you choose translucent paper, you also decide on the opacity; maybe you want to pretend you wrote on a piece of scotch tape, which is very translucent, or on tissue paper which is more opaque. It is your call. You can then decide to have all the papers cut straight and evenly, or go crazy with irregular shape and size. But wait, that is not all. You can also ask the script to separate all the words without any paper. If you are working on a layout, the script can, if you choose so, to place all those word bits on your layout for you (no need to copy and paste dozens of bits) and it will even rename each layer according to the word on it. Neat huh? I am telling you: it probably will take you longer to decide on all those options than it will take the script to execute it.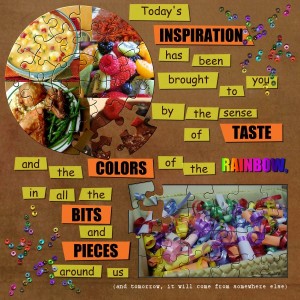 This script is available in all my stores: Creation Cassel, Do It Digi, Scrapping Whispers, Divine Digital
You have also a chance to win this script by adding your name to this thread in the Happy Place at DST.
Want to see this script in action? Here is a layout we did for the ADSR5, challenge #10.