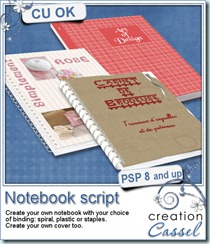 Whether you are making a school themed kit, or advertising a course, tutorial or an e-book, this script can help you create a neat notebook. You get to choose between 3 types of binding, with it color but you can also create the cover page as you wish, with images, text, windows, textures, even some tears and stains if you want.
This script is available in my stores: Creation Cassel, Do It Digi, Scrapping Whispers.
And if you want a chance to get this script for free, check out the Happy Place thread here, at DST. One winner will be drawn on Monday night.