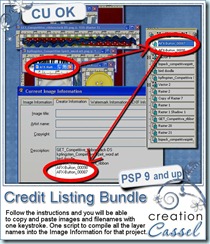 Do you like to have a list of all the elements and products used in a layout? Do you find it tedious to have to type that information in a txt document without forgetting any? But then, after you have played around with your layout, you don't remember which element is still there and which one is not used or finally hidden? This script bundle will solve most of these. You will have instructions to configure your PSP so that you can copy or paste elements onto your layout with ONE keystroke each, and this will also copy the filename of the element as a layer name on your layout. Then, a third script will make a compilation of all the meaningful layer names and will save them in the Creator Information tab of the Image Information window. Now, this information will always be WITH your layout. No more lost txt file. You can refer to it anytime.
This script is available in all my stores as a bundle. One little detail though, the Copy and Paste scripts can only work on PSP9 and up, because of a particular feature that didn't exist in PSP8. So if you have PSP8, you can purchase the Compilation script alone, instead of the bundle.
Check them all out: Creation Cassel, Do It Digi, Scrapping Whispers, Divine Digital.