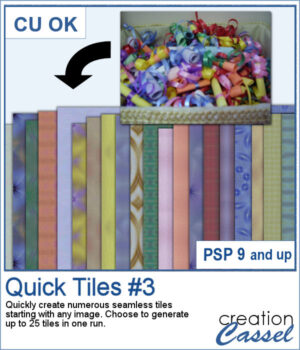 To create patterns from photos is a great way to have matching colors for your papers. In addition, it is a great way to use "bad" photos, those out of focus, with odd colors, etc.
The script will create up to 25 tiles in just a few seconds. Some designs will be great, others, maybe not-so-great, but you can just discard those that don't suit you. And if needed, run the script again to generate more tiles. With the random feature integrated in the script, you will always get different results.
Get this script in the store: Quick Tile 3
In order to win this product, add a comment on this Facebook post telling us if you knew about the first two scripts in the Quick Tiles series (remember, add a comment, not just a Like!) The winner will be announced in the newsletter, next week. Not a subscriber yet? Not a problem. You can register here and it is free (and you only get one email per week).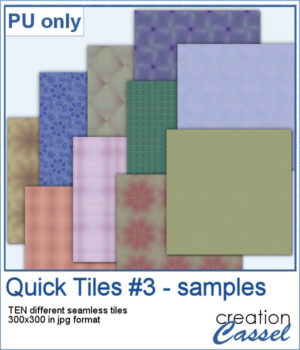 As a sampler, I created 10 seamless tiles using the same starting image as for the previous Quick Tile scripts. That means our tiles will match the other 20 patterns you can download.
You need to be logged in to download this sample. You can either login, or register on the top of this page.