Another script will allow you to create a variety of decorated beads. This time, the beads will be a slightly different shape than the previous scripts. Furthermore, you can create monochrome beads in addition to the duotone ones. Different rotations will be associated with the correct bevel and shadows to give a more realistic effect.
You can create up to 15 beads in one run using up to 6 colors. The script will randomly combine those colors. Keep the beads you like and discard the others.
Get this script in the store: Beads Maker 4
In order to win this script, add a comment on this Facebook post telling us what other shape beads you would like to see (remember, add a comment, not just a Like!) The winner will be announced in the newsletter, next week. Not a subscriber yet? Not a problem. You can register here and it is free (and you only get one email per week).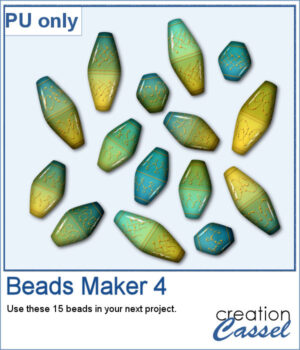 For a sampler, I used the same color palette as for the previous freebies for the Beads Maker 1 and the Beads Maker 2. This way, you will have a total of 45 matching beads to play with and create a variety of elements.
You need to be logged in to download this sample. You can either login, or register on the top of this page.