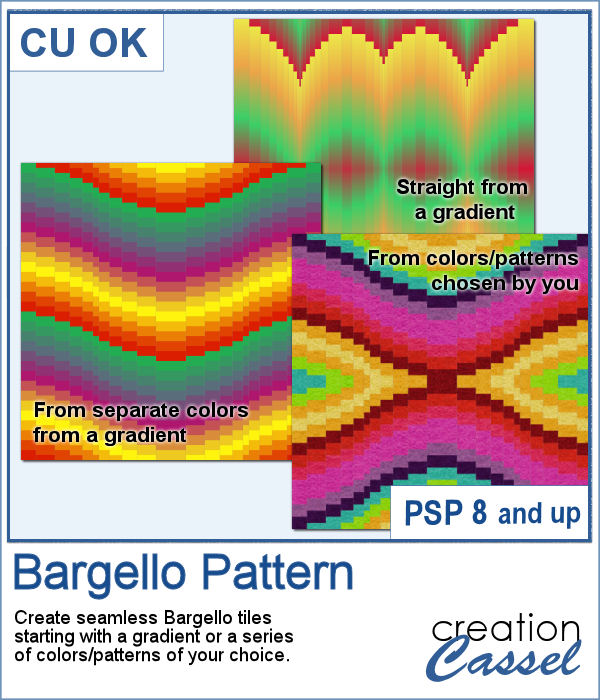 A Bargello pattern is made of multiple strips of fabric, cut into more strips and gradually offset from one another. All that delicate work is tedious when sewing fabric, and definitely as tedious if using a graphics program as it will involve multiple selections, cutting and moving.
With this script, the multiple steps will be automated, making the whole process faster and even more accurate than if you were to do everything manually. Start with a smooth gradient or separate strips of colors or patterns. The script will pick one of nine different patterns, randomly. In the end, you will have a seamless tile that you can use to fill any larger surface. Add a texture if you want.
Get it in the store: Bargello
In order to win this script, add a comment on this Facebook post telling us whether you have ever used or made Bargello patterns (remember, add a comment, not just a Like!) The winner will be announced in the newsletter, next week. Not a subscriber yet? Not a problem. You can register here and it is free (and you only get one email per week).
I created two tiles using individual patterns: one is in the red tones, which you could use for Valentine projects and one with pastel colors for a softer type of project.
Each tile is seamless. If you want a more "accented" pattern, you can resize the tile to become narrower.
You need to be logged in to download this sample. You can either login, or register on the top of this page.