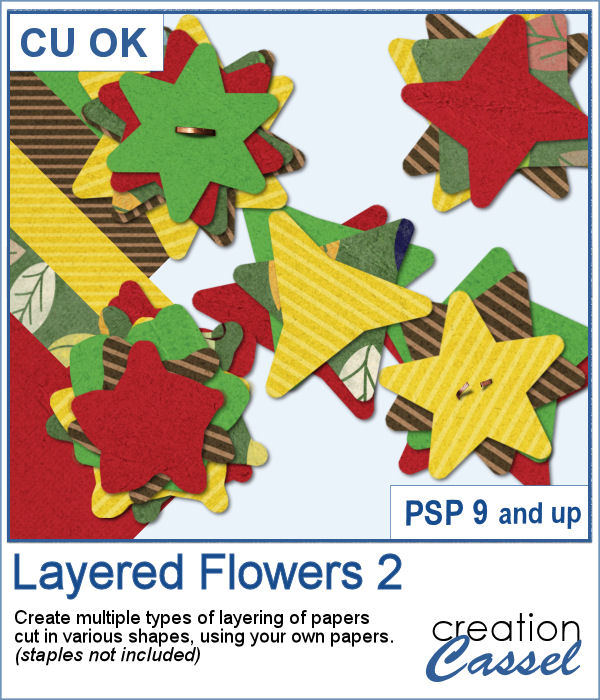 Did you have a peek at the Layered Flowers script from last week? You could create a set of layered circles, but this week, you can create a set of layered papers cut into various shapes with points. Although you can decide how many points each shape will have, the script will randomly create those shapes to give you a unique result every time.
Just like the previous script, you can choose any papers of your stash, the number of layers, the number of "flowers" and whether you want the script to add a drop shadow.
Perfect to create a fun accent to match your kit or your project. Add a button, a gem, a brad or a staple in the center to hold all those layers.
Get it in the store: Layered Flowers 2
In order to win this script, add a comment on this Facebook post telling us what you would use these "flowers" for (remember, add a comment, not just a Like!) The winner will be announced in the newsletter, next week. Not a subscriber yet? Not a problem. You can register here and it is free (and you only get one email per week).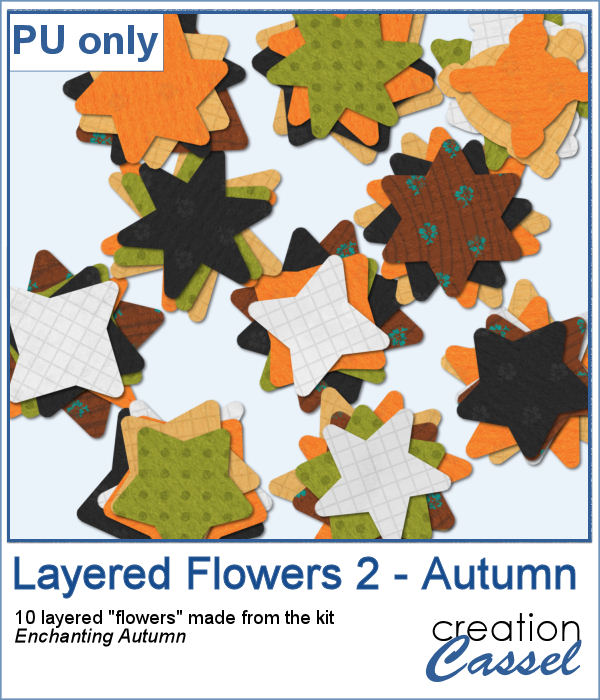 For a sample of this script, I used papers from the bundle Enchanting Autumn from Marisa Lerin. It includes a variety of "flowers" using different settings of the script: number of layers, number of points and regularity vs irregularities.
You get 10 flowers that you can use as is, or with the kit that you can get too.
You need to be logged in to download this sample. You can either login, or register on the top of this page.