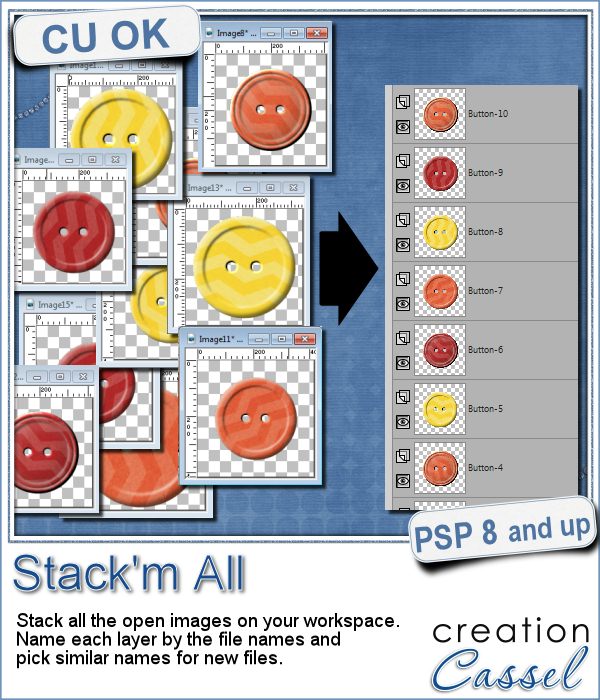 Did you ever use a script that created many elements left on your workspace? What do you do with them? If you want to save them, you might have 20 images to save, each with a different name.
Now, you can save a lot of time using the Stack'm all script. It will stack up all the images from your workspace into individual layers on ONE file. So you you would have only ONE file to save.
You have various options too: you can rename all the images that were not previously saved (like those generated by a script) with a generic name; you can also group all the layers from a multi-layered image before stacking them into the new image. A great time saver.
Get this script in the store: Stack'm all
Do you want a chance to win this script? We'll make a little game this time around. Name one script that creates a lot of elements left on your workspace. I will announce the winner in the newsletter, next week. Not a subscriber yet? Not a problem. You can register here and it is free (and you only get one email per week).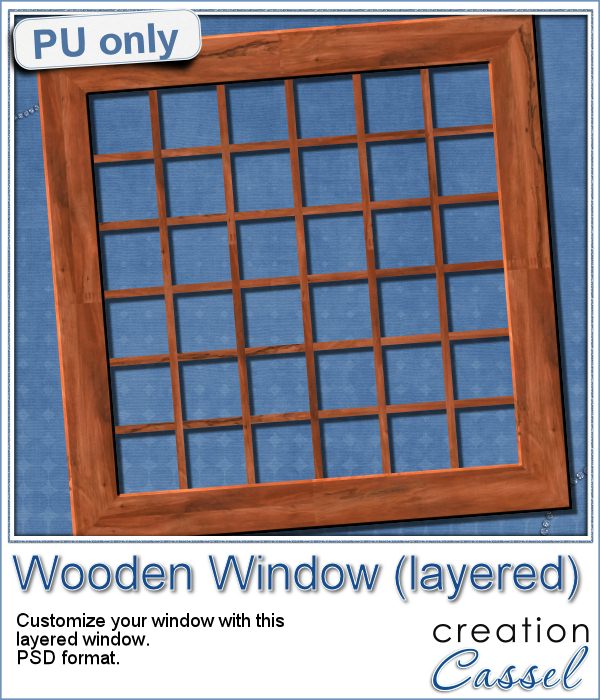 As a sample for this week, i am actually giving you a little challenge. I created a wooden window and i left it in separate layers for you to customize. You can remove some vertical or horizontal pieces to create a different disposition of the window panes. You can remove some of them, cut others, end up with a variety of pane arrangements, even if they are... uneven.
Once you have customized your window panes, merge the center pieces and add a bevel to your liking. Finally, it is time to add images or photos. Will you use a single image to show outside the window? Will you add separate images on different panes so the window will act like a frame? Or will you do use it as a curious cabinet front? Use your creativity.
You need to be logged in to download this sample. You can either login, or register on the top of this page.

Now that you have created a new masterpiece that is totally unique, the REAL challenge is to post it on the Corel Paintshop Pro FB page with the tag #FanFriday. I would love one of your creations to be showcased on their gallery, just like they posted mine.