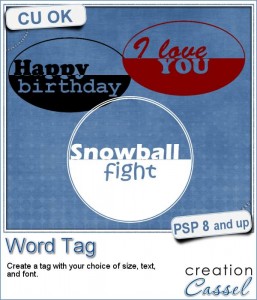 If you want to add a fun word tag to your project, you can use this script now. Although i am sure you can do the same manually, it is always nice to have the same result faster and more consistently, especially if you plan on having a set of similar tags.
You can use those tags to add a short phrase like "Happy Birthday" or "Get well soon", but you can also have a date "Christmas 2015" or "August 10, 2014" to commemorate a particular anniversary.
Combine this tag with other elements or effects and you can create a button, a leather tag, or a stamp.
You have the control of the text, but also the fonts and the colors so you can really match your project or your kit.
Get this script in the store: Word Tag.
How would you like a chance to get this script for free (or win another one if you already bought it)? In the comments below, tell me how you would use such tags. Would you combine them with something else to create a new element or a new effect? I'll announce a winner in next week's newsletter. Not a subscriber yet? Not a problem. You can register here and it is free (and you only get one email per week).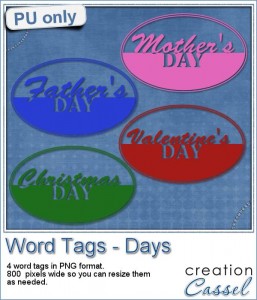 As a sample, i created four tags based on common DAYS, that you can use for your projects. You probably have at least one layout for Mother's Day, Father's Day, Valentine's Day or Christmas Day, right?
Add those tags as a way to "date" those layouts. The tags are very large (800 pixels) but that is on purpose: it allows you to size them to what you need. Of course, if i had created them at 300 pixels, you could not have sized them up properly. Better have them too large and size them down, so you don't lose quality.
You need to be logged in to download this sample. You can either login, or register on the top of this page.

And remember to show us how you use those tags too. We have a pinboard where you can pin any of your projects made using these freebies, or anything you purchase from the store. Here is the link:
https://www.pinterest.com/scrapbookcampus/psp-scrapbook-showcase/
You can follow this board but even better, i can give you access to you can PIN on it. Just ask and i'll give you that access.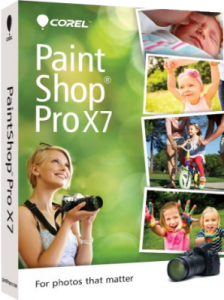 Do you like the scripts and tubes from the Creation Cassel store?
Did you know that if you purchase (or upgrade to) Paintshop Pro X7, you will get an additional bundle of products worth over $70? Yes, that is like getting twice the value you will pay for.
Best of all, did you know that the PSP Creative Effect Bundle is actually a collection of scripts and tubes from the store? Yes it is! As i have teamed up with Corel for the last year, you will get several popular products from the store like Sparkles, Glittered Edges, Custom Playing cards and the Quick Scrap Bundle! Yes, they come FREE with your purchase (or upgrade) of PSP X7.
What are you waiting for? Get your PSPX7+ bundle now!