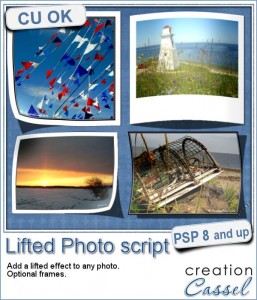 You might already know about the curved photo script that is available in the store, however, that was only for one type of curved effect. This current script has many more options.
You can curve horizontally, vertically or diagonally. You can also curve only one corner if you prefer.
The shadow is always added to be consistent with the lift and the light source being traditionally on the top left. The shadow is left on a separate layer, in case you want to tweak it, or create a different one for your own needs.
Not only can you lift a photo, but you can also curve an element too; just imagine you have a paper flower or a sticker to lift. This will be the perfect tool to achieve that result.
You also have the option to add a frame to your photo if you want: it could be a regular even frame or a Polaroid type one.
In addition, the script will add some shading to the image to fit the curve given.
Get this script in the store: Lifted Photo script.
Not only you can lift photos and images, but have a look at lifted alpha elements. Isn't that cool too?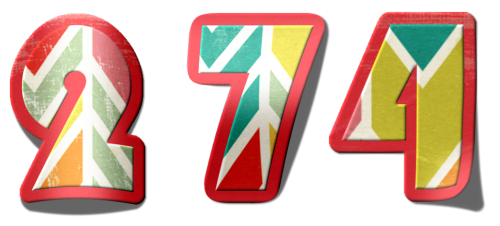 How would you like to get a copy of this script? In the comments below, tell me which type of lift you would most likely use (horizontal, vertical, diagonal or corner lift) and i will pick a winner next week that will be announced in the newsletter. Not a subscriber yet? Not a problem. You can register here and it is free (and you only get one email per week).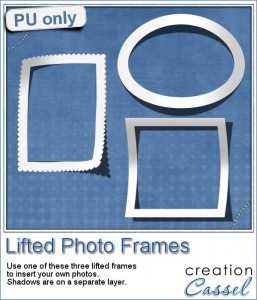 For this week's sample, since i could really not give you a lifted image, i figured you might find a use for some lifted frames. Although i know that adding a lifted frame to a flat image MIGHT not be a perfect match, it will still give you a good idea of the effect you can expect from the script.
Hopefully, using these frames, the images themselves won't need to be curved too much so they won't seem too much like a mismatch, which would happen if you have a very curved frame and a very flat image!
You get three different frames, lifted in different ways. The files are in .psd format, with the shadows on separate layers so you can tweak them as needed.
You need to be logged in to download this sample. You can either login, or register on the top of this page.