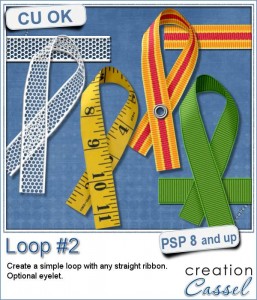 Are you often looking for the perfect loop but you can only find templates that you have to colorize in one color? or a script that only lets you choose a color, gradient or pattern, but does not give a very realistic effect, especially with patterns?
This script will help you get what you want because you can use your own straight ribbon and the script will cut a piece to be curved into a loop.
You can use a texture ribbon, a translucent ribbon, a patterned ribbon, a directional ribbon, etc.
You can also add an eyelet if you want, to attach the pieces. The end result will be left unmerged in case you want to do some tweaking or to insert elements between the layers.
Get this script in the store: Loop #2
If you want another type of loop, check out the Loop #1 script.
Do you want a chance to win this script (even if you already bought it?). Tell me what type of ribbon you would like to use in such a loop. Add your suggestion in the comments below and i'll pick a winner that will be announced in the newsletter next week. Not a subscriber yet? Not a problem. You can register here and it is free (and you only get one email per week).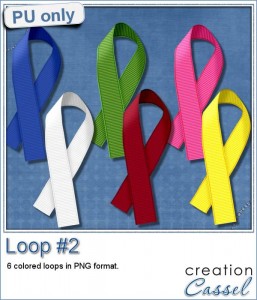 Do you want a sample of basic ribbons you can use? Here is a set of 6 basic colors for ribbons. Use them as accents, or even to tie some tags with.
You need to be logged in to download this sample. You can either login, or register on the top of this page.

So what will you be doing with those ribbons?