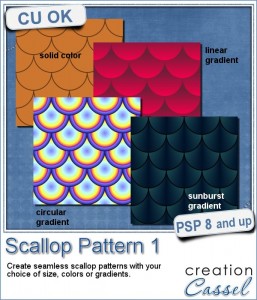 You can probably create scallop patterns the loooooooong way and add individual circles, one by one, using a guide to align them perfectly, but that is so tedious.
This Paintshop Pro script will do all the calculations needed to align all the circles and create a seamless tile.
You can choose a solid color with an outline (obviously, without an outline, a solid color scallop won't show much!), or use a gradient. And furthermore, you can use linear, radial or sunburst gradients for very unique effects.
You can get this time saving script in the store: Scallop Pattern 1 script.
Do you want a chance to win this script? Tell me, in the comments below, how you would have made a scallop pattern before using this script (template? manually? other?) I'll pick a winner next week and it will be announced in the newsletter. Not a subscriber yet? Not a problem. You can register here and it is free (and you only get one email per week).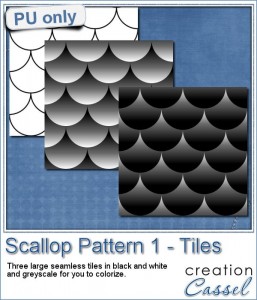 For a sample, this week, i made 3 different tiles using the script.
For the first tile, i simply used a solid white and a black outline. The script did the rest.
For the second tile, i just used a linear gradient, going from black to white and no outline.
For the third tile, i used the exact same gradient as for the second tile, but i inverted the colors (so it went from black to white instead of white to black)
Isn't that simple?
You need to be logged in to download this sample. You can either login, or register on the top of this page.

News from the Campus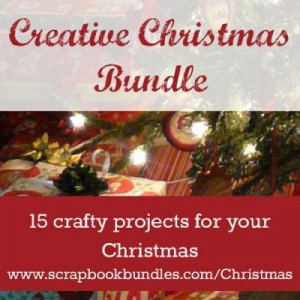 Remember to have a peek at the Creative Christmas Bundle. It is full of supplies, classes and ideas to create something unique this holiday season. It is still on sale for just a couple of days. You get to enjoy all those goodies at 90% off the individual price. That is worth a Black Friday or a Cyber Monday special, isn't it?
Check out who are the 15 designers who contributed and what they can offer you.
*******************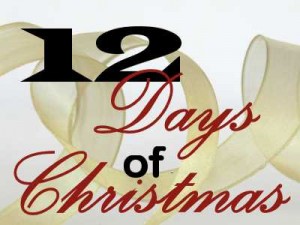 Finally, here is a FREE event you can register into.
The 12 Days of Christmas is a series of daily email giving you 12 different templates for cards and matching envelope, along with inspiration and tutorials from various designers. And yes, it is 100% FREE.
Check it out and register HERE.
Scroll to the bottom and the registration form will popup for you (make sure you don't have any popup blocker on!)