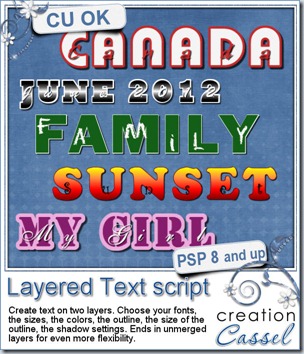 Some Paintshop Pro users like to make signatures tags, cards in addition to digital scrapbooking. This script was requested by Sarah who wanted to make those signature tags with two layers of letters, but found it was quite a task to do manually. So this is how this script came to be.
With this script, the most complicated task you will have to complete, is choosing the options! You can start with any text, but you have to choose the font, the size, the color, for both layers, then, you add an outline (you choose the size and the color) then, you can add shadows to YOUR liking. What is so tedious about this kind of text? Each letter has to be on a separate layer so you will end up with a ton of layers. What does the script do for you? It renames all the layers so you can easily find which layer you might want to edit, change, or move once you want to personalize it even more.
You can do a lot of creative work with this script: create a date, a title, add a name or a wish to a card, make a door sign, place cards, and much more!
You can get this script in my store on special this weekend: Creation Cassel.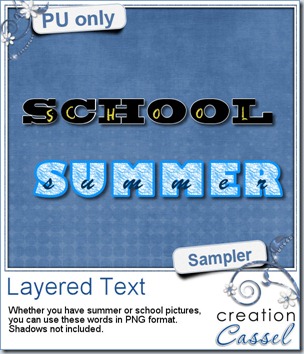 As for every new release, i have a give away  in the DST Happy Place section. Check this thread, and add your name to it. I will be back on Monday night with the name of a winner. It might just be you!
Did you want to use one of those layered words? Here is a free sample. Whether you have summer or winter photos, you probably have either a vacation photo or a school photo. Choose which one you want to use. These samplers are in png format (not layered) and the shadows are not included so you can add your own to match your project. Will you show me what you do with it?
You need to be logged in to download this sample. You can either login, or register on the top of this page.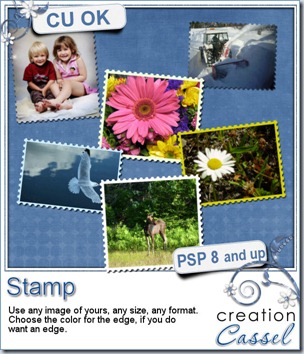 And by the way, did you notice the other 'new' script? In fact, it is a pretty old script, to create a postage stamp. It was among the first scripts i coded, and it was a challenging one. For some unknown reasons, i had it in my older stores but never had it in my personal store. Either that, or it vanished at one point or another. In any case, i decided to find the old copy, dust it and update it to the newer PSP versions. And it is now available in the store. Check it for yourself.