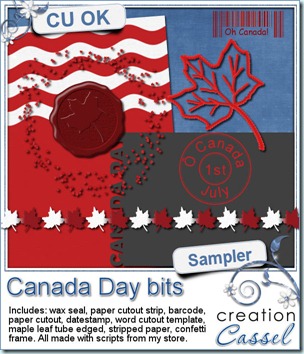 HAPPY CANADA DAY !!
July 1st is our national holiday, here in Canada. To all my fellow Canadian designers and scrappers, have a nice day.
To all scrappers, whether you are Canadian, have visited Canada or wish to come to Canada, you might have some pages to scrap, right? Download this set of bits and pieces, all made using scripts available in my store. This set includes:
- a wax seal
- a bar code
- a datestamp
- a lined paper
- a maple leaf edged with a rope tube
- a confetti frame
- a word edge cutout template
You need to be logged in to download this sample. You can either login, or register on the top of this page.
If you use one or several of those elements, show me what you made. Next week, i will draw a $5 gift certificate among all the scrappers who will have used one of those and shown me the layout. So, get scrapping!