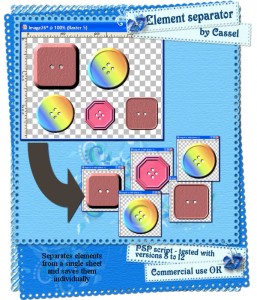 Did you ever make or puchase a set of elements that were all on one layer? Did you want to separate them in individual files for easier access instead of cutting them out every time? This script will do just that. The script will cut out each element, and save it with the name you choose and a number to identify. It can save up to 50 individual files in one folder. Very useful to separate alphas that are made on single sheets. Be sure to follow the instructions included in the readme file.

This script is available at all my stores:
Creation Cassel
Scrapping Whispers
Divine Digital
Scraphead
and it is on special until Sunday night.
Note that this script was part of my Designer Tools Grab Bag #1