Well i had seen awards on some blogs, but never really  had a clue what they were from. And today, i find out i got one!!! Yes, i got an award from Angelfaye, a fellow designer at Do It Digi. This is really a FIRST for me! Yayyyy!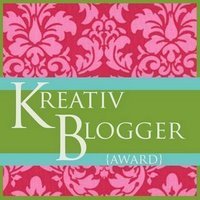 If i understand well, i have to say name 7 things i love, so here is my list:
I LOVE chocolate (perfect time to buy some Halloween treats for myself)
I love my husband
I love my Paintshop Pro (I experience withdrawal symptoms when i can't use it)
I love sweets (other than cholocate)
I love my kids (three teens: Michelle, Sébastien and Gabriel)
I love my two cats 
I love making PSP scripts (it is so nice to make scripts that are not even made into PS actions!)
So now, i have to give it to 7 other blogs. I guess i might have to go and search for links. I'll be back in a bit.